This past Saturday was the 2019 Women's March, and between attending the march myself and seeing pictures my friends have posted online from various marches across the country, I have seen my fair share of very creative and impactful posters.
A popular feminist slogan to use for such posters is "Girls Just Wanna Have Fun-damental (Human) Rights."
However, it can also be found written on a plethora of other items, as seen below: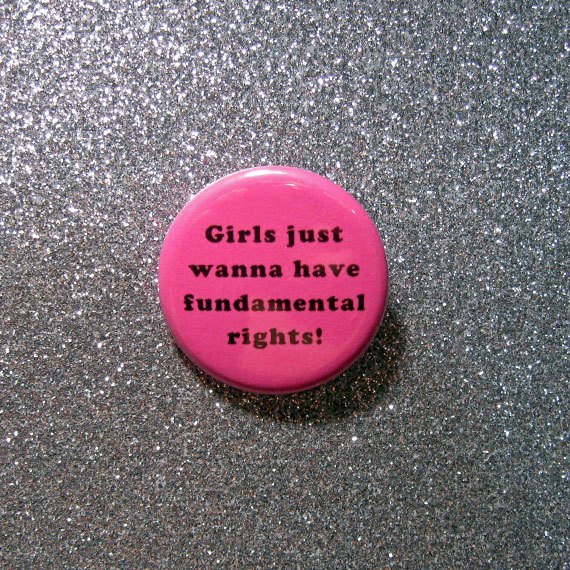 However, it is not such an iconic feminist phrase simply due to the fact that it states that women demand fundamental rights. Rather, it is due to the much deeper level of meaning that it carries.
Upon reading this phrase, most people will immediately recognize that it is alluding to the hit song, "Girls Just Want To Have Fun." Furthermore, people will think of the Cyndi Lauper version of it. However, the song was actually written and originally sung by Robert Hazard from a male point of view. By reworking the song to fit her own perspective, Lauper explains that it was a means to state "that girls want to have the same damn experience that any man could have" (Green), a thought that was undoubtedly the result of an earlier form of feminism.
Thus, by choosing to employ words that reference this song, the phrase "Girls Just Wanna Have Fun-damental (Human) Rights" is effectively given meaning that goes beyond simply demanding gender equality in the present; it communicates a long history of resistance against a system that has oppressed women and in turn also displays how feminism has evolved over time. But most importantly, it is representative of the fact that feminism is not going anywhere until the goal of gender equality is achieved.
Works Cited:
Green, Emma. "The Feisty Feminism of 'Girls Just Want to Have Fun,' 30 Years Later." The Atlantic, The Atlantic Monthly Group, 1 Apr. 2014, www.theatlantic.com/entertainment/archive/2014/04/the-feisty-feminism-of-girls-just-want-to-have-fun-30-years-later/359834/. Accessed 20 Jan. 2019.